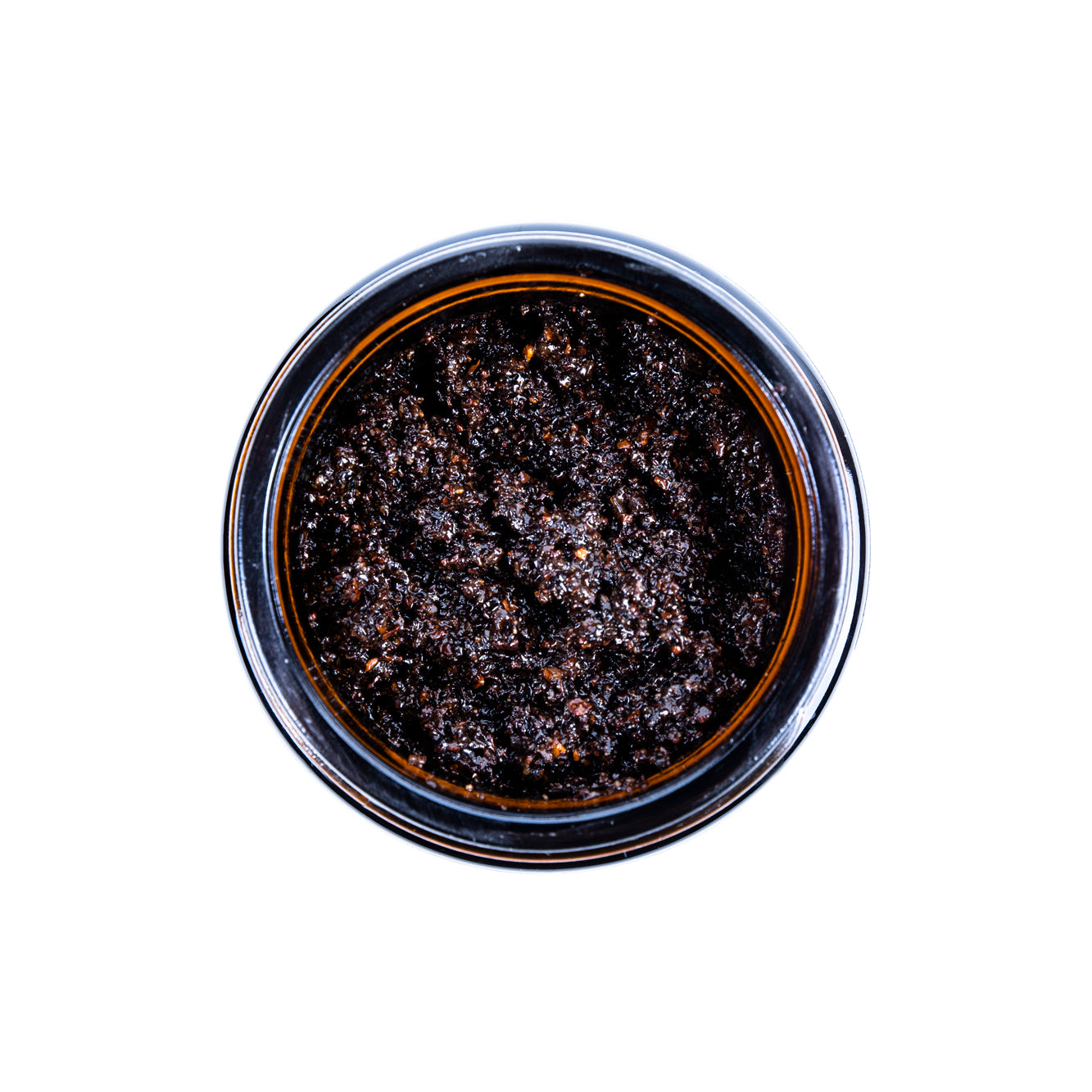 Sale price
$ 18.00
Regular price
(/)
In 2016 we released Scruffy Hands, a coffee ground exfoliant and moisturizer. It was meant to be a limited run for the holidays but we liked it so much (and so did you!) that we sold it until the end of 2018. However, we wanted to re-introduce it. Since it's release, we've had many of you message us or talk to us at events and mention you're using it as much more than a hand scrub (face, feet, body, etc) and we wanted that to be reflected in the product. With some upgrades, we are happy to introduce Scruffy Scrub...
KEY INGREDIENTS & FEATURES
Coffee Grounds and Walnut Shell Powder

Vitamin E Oil
Orange Peel Powder
WHAT DOES IT DO?
Scruffy Scrub is the perfect match for dry, rough skin. Coffee Grounds, Epsom Salt, Brown Sugar and Walnut Shell Powder scrub the dry, dead skin away and a blend of natural oils and butters bring the skin back to life. Once rinsed, leaves hands feeling unbelievably soft, smooth and ready to take on more tasks.
HOW TO USE 
Apply to wet skin and scrub until desired exfoliation level is reached. 30-60 seconds can be plenty. Rinse. Do not exceed 3 uses per week. Over-exfoliation can also lead to dryness.
THE SPECS
Uses: All Purpose Exfoliant
Scent: Real Coffee Grounds, Vanilla Extract, Orange Peel Oil, Cedar Bark Oil
Size: 4oz Amber Glass Jar
Coffea Arabica (Coffee), Coconut Oil (Cocos Nucifera), Magnesium Sulfate (Epsom Salt), Sucrose (Sugar), Almond Oil (Prunus Amygdalus Dulcis), Apricot Kernel Oil (Prunus Armeniaca), Juglans Regina (Walnut) Shell Powder, Butyrospermum Parkii (Shea) Butter, Vanilla Planifolia (Vanilla) Fruit Extract, Theobroma Cacao (Cocoa) Seed Butter, Glyceryl Stearate SE, Cetyl Alcohol, Cedrus Deodora (Cedarwood) Bark Oil, Citrus Aurantium Dulcis (Orange) Peel Oil, Citrus Aurantium Dulcis (Orange) Peel Powder, Tocopherol, Phenoxyethanol, Potassium Sorbate
Choose options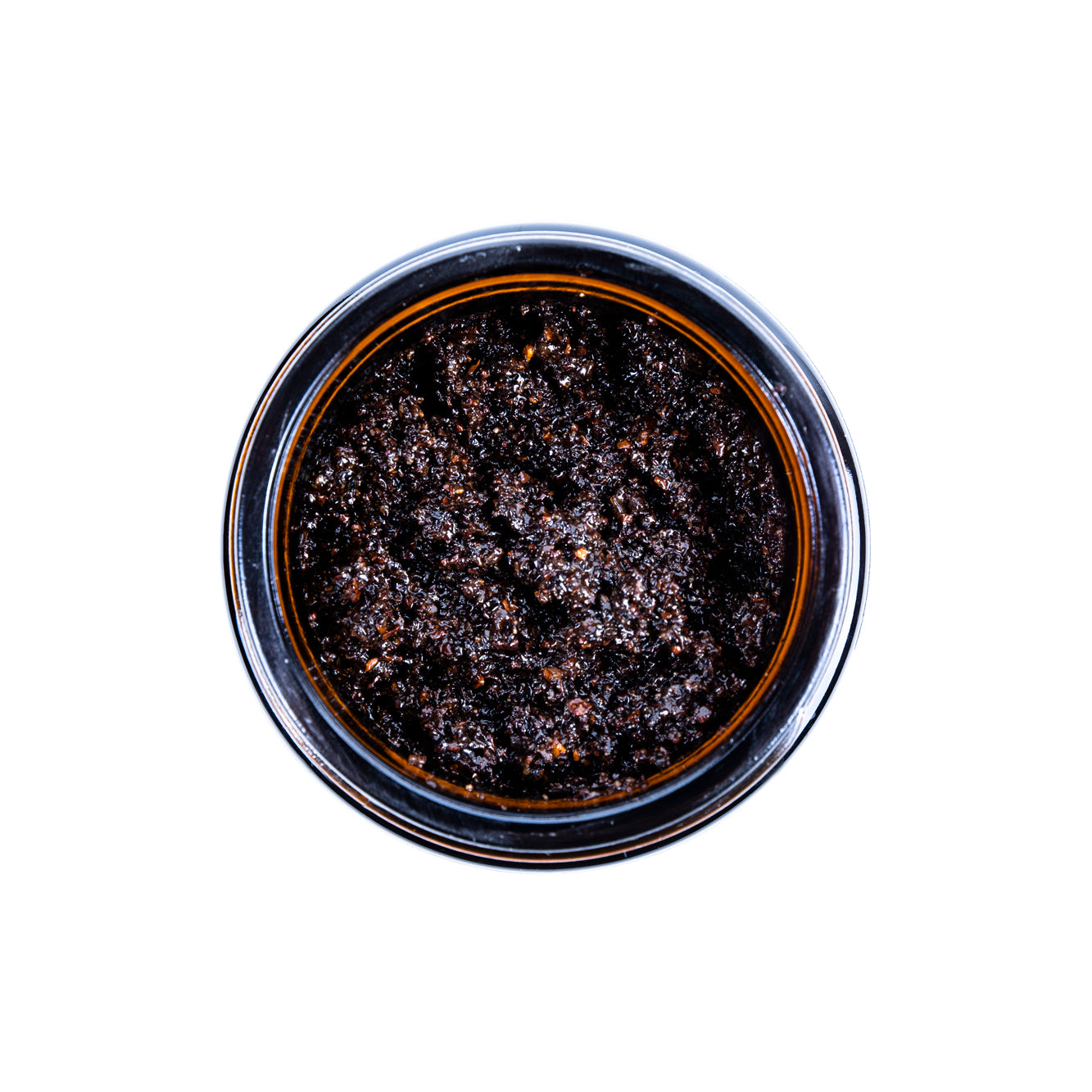 5 star product scruffy scrub
I had a spot on my hand. It was one big red spot. It was about silver dollar size. With the help of scruffy scrub it is now down. Three smaller spots. One is about nickle size and the other two are smaller then the end of my pinky. It also helps relieve itching. I will continue to but this because it also makes my skin feel softer.
This stuffs outstanding
I use this stuff two or three times a week. After I don't even need to use a face lotion or cream, the natural oils from the scrub keep my skin feeling soft and hydrated. Its so good that I was half way through a jar when I dropped it. It shattered and spilled everywhere. I proceeded to immediately order another jar. Simple as that. I can't recommend this enough.
Great smell, amazing results.
On my second container now. Can't decide what's best, the smell, feel or the way it makes my skin look. You just try this product. It's awesome.
I will marry thee
Good golly! This scrub. I so want want eat, shower with it and sing songs to it. It's beyond delightful. My skin feels as soft as a babies butt. I've let friends and family try it, they all agree.
Do yourself a favor, just buy two containers. You'll thank me later. ❤️
Scruffy Scrub
This product was part of my first purchase from Arcadian and I absolutely love it. It's been great for my dry skin and, as a self proclaimed iced coffee addict, I love the smell as well. Excellent product, excellent customer service. Well done Arcadian!